All In A Single Afternoon
"We collect memories, storing them in our top bureau drawer or carefully packing them away in a box in the attic. These mementos are reflections of events especially meaningful to us. We pull them out on occasion to help us recall those memories; rarely shared or understood by others. Over time, we stop opening the box; the need for a physical reminder diminishes, and decades pass. We move on and the mysterious box, lying undisturbed in the attic corner, is forgotten. We pass away and our memories - the ephemera of a time gone by is sold in a yard sale or on ebay and that history and meaning is lost, forever." - Stephen Kennedy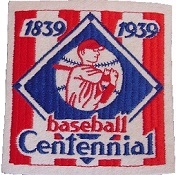 Forty years ago, I found a colorful insignia, used to mark the one-hundredth anniversary of baseball. At that time, I did not understand how important this anniversary was to a nation recovering from war and depression. In 1939, the Centennial of Baseball Celebration ignited the national interest. The spirit of baseball united millions across the United States and beyond. From sandlots to professional ballparks, ordinary people found common ground and a shared enthusiasm for the birthday of a simple sport, Baseball.
I have tried to piece together fragments left to the bureau drawer or the attic and have connected those disparate pieces to the history of baseball and, specifically, the centennial of baseball. I have collected artifacts from all over this country. What emerged was the story of a unique period in our collective memory; a single afternoon spent at the ball field. This collective story has become my story, defining who I am as a collector. While saving these items from bureau drawers across our country, I have also gathered the stories of those long ago collectors. Sharing their stories and the story of the 1939 Baseball Centennial is the purpose of this website.
Special thanks to my webmaster Pete Conner .