"Minor League Day" William Gabriel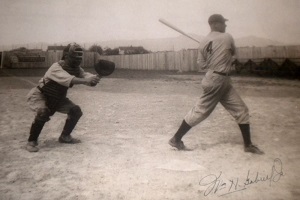 Bill played five years in the Minor Leagues and in 1939 represented the Hazleton Mountaineers of the Interstate League. He was asked to represent the League in Cooperstown for the National Association Day as a catcher #14 and he was honored to do so. The day was filled with pageantry and though disappointed with his bat he played well behind the plate. He saved his bat and game ball as mementos of a great day in Cooperstown that he would never forget.
His favorite player was Pepper Martin and Bill admired his intensely that he adopted it in his style of play. He was severely wounded in World War Two that ended his baseball career. His Purple Heart and memories as a good baseball player was all he had as he worked as an elevator operator for twenty years at a Scranton, Pa. hotel.