National Baseball Centennial Commission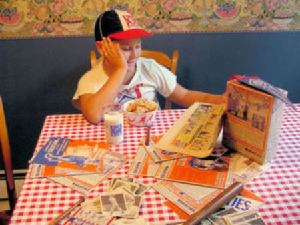 Officially formed and incorporated in Chicago in October 1938, the Commission was introduced to two marketing and public relations men, Steve Hannagan and Al Stoughton, who were hired earlier that summer to market the Centennial of Baseball
Hannagan detailed his strategy to market a fictionalized version of the history of baseball as the "Centennial Story". While the Commission approved his plan, many sportswriters objected to his fabricated accounts of baseball's history. However, his story was very successful, igniting the American spirit. Hannagan's story created excitement across the country from sandlots to professional ballparks.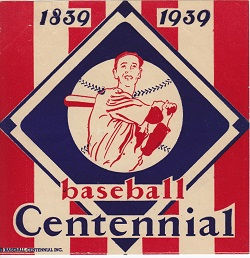 The first item up for consideration was the creation of an emblem. In the summer of 1938 Marjori Bennet, a young artist from New York City, won a contest for the design of the emblem. Her design featured a background of four red stripes representing balls, and three white stripes representing strikes. Overlaying the stripes was a baseball diamond. A batter at the end of his swing was in the center. "1839- 1939" was written on the top and "Baseball Centennial" was written on the bottom of the design. The Commission approved the design at its fall meeting and agreed to unveil it at the winter meeting in New Orleans that December.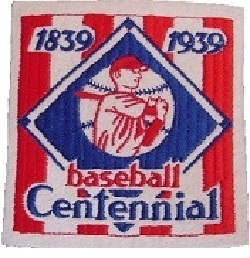 Miss Bennet's emblem contained one major flaw, her batter depicted Joe DiMaggio. Printing of various material were done and press releases had gone out the commission was committed to the design and it was to late to change. Patches were to be worn by professional teams but Professional Baseball objected to the singling out of one player and the Bennet design was altered by inserting a caricature of a batter. The altered design was accepted by Professional Baseball and new patches were manufactured for professional teams The Bennet's design was everywhere and this ephemera and souvenirs represented memories of a single afternoon in baseball.