"The Iron Horse" Henry Louis Gehrig
May 2, 1939 was the saddest day in the 1939 season, when Lou "Iron Horse" Gehrig called it quits. As the city learned more about his illness, disbelief turned to incomprehensible heartache as fans reviewed Gehrig's record. - 2,130 consecutive games - 184 RBI's in 1931 - Triple Crown in 1934 - League MVP batted 373 with 47 homers and 175 RBI's in 1927 - Lifetime batting average of 340 with 2721 hits, 493 home runs and 1995 RBI's.
Gehrig's conduct of life on and off the field, his compassion, professional and competitive spirit set the standard for the New York Yankees. Gehrig's love of the game made him an icon to be admired.
Most memorable was the sadness felt by New York fans to learn of Lou Gehrig's illness on June 13th after his visit to the Mayo Clinic in Minnesota. The day before he played 3 innings in an exhibition game against the Kansas City Blues a "Double-A" affiliate of the Yankees, Gehrig did not want to disappoint the 23 thousand + fans at Municipal Stadium.
On July 5th, more than 61,000 fans came to Yankee Stadium for "Lou Gehrig Appreciation Day". Tears filled every man's eyes as Gehrig, trembling, announced his feelings as having been given a bad break, "But" he said, "Today I consider myself the luckiest man on the face of the earth".
His teammates presented him with a bronzed tablet with this Inscription by John Kieran of the Times: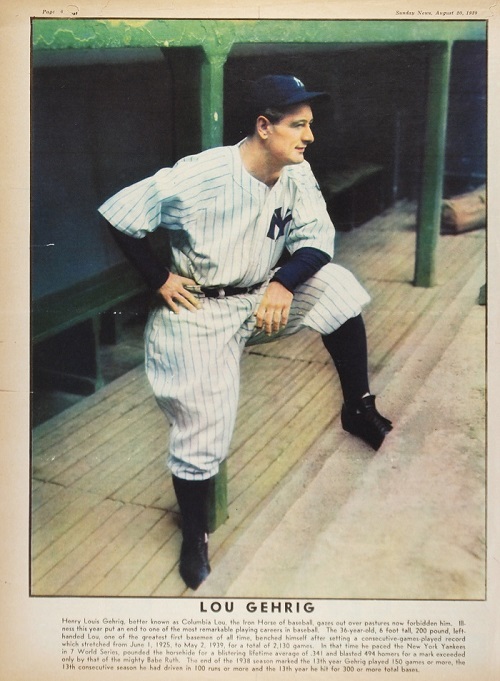 To Lou Gehrig
We've been to the wars together
We took our foes as they came
And always you were the leader
And ever you played the game
Idol of cheering millions
Records are yours by sheaves
Iron of fame they hailed you
Decked you with laurel leaves
But higher than that we hold you
We who have known you best
Knowing the way you came through
Every human test
Let this be a silent token
Of lasting friendship's gleam
And all that we've left unspoken--
Your pals of the Yankee team
* * *