"Minor League Day" History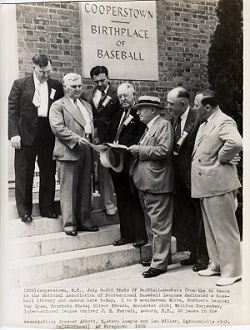 On Sunday July 9th at ten a.m. well-wishers gathered to greet another special train from Albany, but not nearly the crowd as for the Cavalcade of Baseball. The National Association of Baseball Leagues, led by Judge William Bramham, that consisted of 41 leagues and 271 teams in the US and 45 teams in Canada.
The League officials went to the Cooper Inn and enjoyed a light lunch and refreshments. The League presidents then made their way to the National Baseball Museum to establish the Baseball Library. On the second floor of the Museum they placed a large bronze plaque indicating their gift of over 400 volumes of record books and documents of baseball's past. This contribution has proven to be a major asset of the Hall of Fame.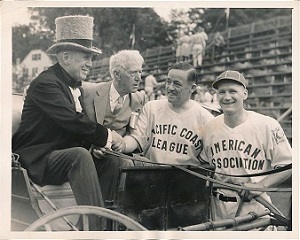 A parade led by Mike Kelly, owner of the Minneapolis Americans, dressed in 1860's clothing and riding in a sulky, arrived for the All-Star game at Doubleday field. Two teams of stars wore white "The Doubledays" or blue "The Cartwrights" uniforms emblazoned with the name of one of the 41 leagues across the front. The players had to be recruited to play as most of the leagues lacked funds to send their own representative to Cooperstown. Most of the players came from the East Coast and were players or managers, often stars of the past. Three players came from the Cooperstown men's team to fill the roster. Teams took to the field and played before a crowd of less than 4,000 fans. However, that summer, more than 18 million fans attended minor league games across the country.