Baseball's 100th Anniversary Mechanical Pencils

The Centennial of Baseball was an advertising windfall for many companies. The design to use a wooden bat was developed by two companies.
The Louis F. Dow Company of Saint Paul, Minnesota marketing under the name Goodwill Advertising and had a working relationship with Louisville Slugger. They produced a dark wood bat "mahogany" for advertiser's to promote there various companies.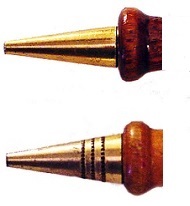 The pencil featured a gold finish smooth tip on a hard nickel plated mechanics and used the 100th Anniversary motif. The use of the Centennial of Baseball was not used because of copyright issues. The Dow Company was very successful in it's efforts and produced thousands of Bat Pencils. One of the most successful promotions was with General Mill's Wheaties Centennial Anniversary box tops give away.
The Scripto Company of Atlanta, Georgia also produced bat pencils using a similar application of the 100th Anniversary motif on a light colored wood "ash" there sales force was successful as well. Converting advertising customers to this unique bat pencil. The Scripto pencil offered a grooved gold plated tip and proven well made mechanics.
The collectors cherished these pencils and many survive today tucked away in bureau drawers.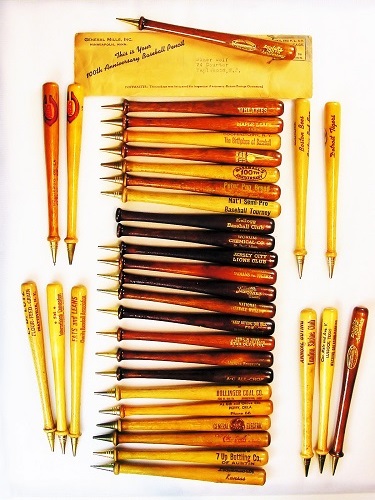 Mechanical Pencil Slideshow
London Shrine Club

London Shrine Club

Toronto Maple Leafs

Leavenworth Kansas

Leavenworth Kansas

New York Worlds Fair - Black Stork Coal

New York Worlds Fair - Black Stork Coal

Wheaties

Kellogg Baseball Club

Worum Chemical Company

A-C All-Crop Swatennial

Star Olive Oil

Mutual Benefit

Jersey City Lions Club

Mutual Benefit

Schmidts Beer

Coca Cola

Peter Pan Bread

Moose Lodge

Moose Lodge

Moose Lodge

7 UP Bottling

7 UP Bottling

E. B. Lutz Grain

E. B. Lutz Grain

E. B. Lutz Grain

Hollinger Coal Company

Hollinger Coal Company

Hollinger Coal Company

Johnson's Sporting Goods

Johnson's Sporting Goods

Johnson's Sporting Goods

Reds World Series

Reds World Series

Reds World Series

Detroit Tigers

Detroit Tigers

Boston Bees & Red Sox

Boston Bees & Red Sox

National Semi-Pro Tourney

National Semi-Pro Tourney

Lubock Gas Station

Lubock Gas Station

General Electric

General Electric

General Electric

Fats Vs Leans Charity Game

Fats Vs Leans Charity Game

Hilton Grover